Many construction professionals spend a significant amount of time and money polishing their resumes in an effort to put their best foot forward in the job market. There's no doubt that a resume is an important part of getting noticed by hiring managers, but there's another document that deserves just as much, if not more, attention: the project list.
Do you need a resume AND a project list?
The short answer is yes, and here's why: these documents tell the hiring manager very different things about your professional experience. A resume is a brief outline of an employee's work history, and usually touches on significant responsibilities and achievements during their time in previous roles. Essentially, a resume is a professional highlight reel to create interest and show the hiring manager that the candidate has the general experience necessary to merit an interview.
The problem is that resumes leave too many questions unanswered when they stick within the recommended length limits; a candidate only has a maximum of three to four pages to cover a career that might span decades. As an example, here's a resume headline that summarizes the candidate's work history in construction:
"Company XYZ is a commercial construction services firm working across the US with clients in the senior living, education, retail, corporate, government, and hospitality/entertainment markets."
This is a great introduction to the types of projects the company builds, but it tells the hiring manager nothing about the candidate's specific involvement within those projects, or about the specific sizes and complexity levels of the projects the company worked on. The hiring manager doesn't know if the candidate has had a hand in all of those markets, or if they specialized in just one.
This is where a project list comes in.
A project list is a necessary supplement to a construction resume because it can be much longer and more detailed, giving the hiring manager deeper insights about the candidate's experience and ability to deliver value. On a project list, candidates can give specific examples (including pictures) of construction projects they've had a hand in.
For example, some project lists tell the hiring manager whether each project was out of ground, tenant improvement, a total gut renovation, etc. They can also show how many of each type of project the candidate has built, and to what extent they were involved: did they take over for someone halfway through the job? Were they only involved in the interiors portion? Were they one of several Project Managers on the job? Or did they run it from trees to keys? Project budgets and sizes, locations, and other relevant details are also important to include.
Doesn't putting together a comprehensive project list take a long time?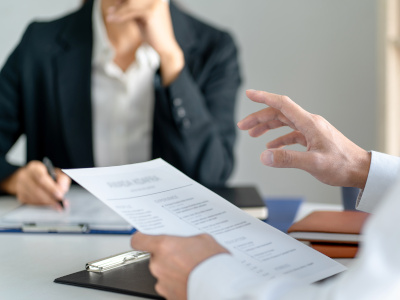 Creating a project list from scratch usually does require an upfront time investment, especially if a candidate has been in the industry for a long time. But once it's created, it's easy to update as new projects begin and end, and a great project list will save the candidate more time in the long run than it costs them up front. Having a candidate's detailed project history on hand helps a hiring manager know very quickly whether that candidate is a fit for what they are looking for, which can help save both parties time.
Can't the hiring manager just call or meet with the candidate and ask for project details?
They could, but both hiring managers and candidates are usually extremely busy, and the ability to eliminate unnecessary time-consuming steps is a great help to all parties involved. If a hiring manager receives a job application that includes a resume and a detailed project list, compared to receiving only a resume, it might feel like an easy choice to choose the person who prepared a project list instead of pursuing someone who may or may not be a good fit.
Some candidates feel that a sheet of paper will never be able to convey what they've accomplished in their careers, and that if they can just get in front of the hiring manager, they can seal the deal. That may be true, but preparing a project list is still the most efficient way to boost their chances of getting an in-person meeting.
What if the construction professional has no intention of changing jobs?
Project lists can come in handy even when a job change isn't on the immediate horizon. These documents help outline how much an employee has achieved in their career, and specifically within their time at their current company. If there comes a time when that employee is under consideration for a promotion or wants to ask for a raise, these quantifiable achievements can help them make their argument.
In addition, employees never know what the future holds. Anything from an unexpected layoff to a lifestyle change to the desire to live in a new city could make it necessary for that employee to pursue a job change. Or they could simply come across an opportunity that is too tempting to resist, even if they had not planned to make a change. In all of these situations, having a project list ready to go will ease the transition process and boost their chances of finding a great fit.
So what makes a great project list?
First, like in a great resume, projects should be listed from most to least recent, highlighting what a candidate is currently working on or has worked on most recently. If the candidate has worked on projects in many different specialties, the project list can be organized that way: hospitality projects, followed by commercial projects, followed by industrial, for example.
Each project should include as much information as the candidate remembers about it; some of them might have taken place a long time ago, and there will be less detail included, but that's okay. Just list as much as possible: budgets, team sizes, management responsibilities, significant achievements or obstacles, etc. Include pictures if possible. If the candidate has built several of the same type of project for one client (for instance, ten McDonald's restaurants), there is no need to describe all of them in detail. Just create a brief snapshot and then list how many projects were built in total.
A good rule of thumb is for candidates to create a project list that includes their full history at that time, and then each time they finish a new project, they can spend just five minutes to add that project to the list. That way, they remember all the great things accomplished and will have the document fully up to date the next time they are interested in a career opportunity.
Below is an example of what a project list template might look like. While resumes and interview skills are very important elements in the hiring process, project lists are an underrated tool that can save time for candidates and hiring managers alike, and communicate from the first point of contact that a candidate is experienced, prepared, and forward-thinking.
Name of Project ♯1
Type of Project

(parking deck, airport, bridge, interchange, site development, wastewater plant, etc.)

Dollar Value

Dates of Project, Your Title, and Name of the Company

Your Involvement

(start to finish, rescue, midway, etc.)

Specific, Quantifiable Accomplishments




For Example:

Brought project in 2 weeks early
Helped company win $200k incentive bonus
Project won state's ABC Award for highway projects in Southeast region
Name of Project ♯2
Type of Project

(parking deck, airport, bridge, interchange, site development, wastewater plant, etc.)

Dollar Value

Dates of Project, Your Title, and Name of the Company

Your Involvement

(start to finish, rescue, midway, etc.)

Specific, Quantifiable Accomplishments




For Example:

Assigned to a job that was 3 months behind schedule; part of 3-man project management team that turned the job around and ultimately completed one day early
Helped company avoid a projected $135k penalty
Identified design errors that would have resulted in major utility work; proposed value-engineering solutions resulting in $850k savings to owner and an $410k additional profit to the job
Name of Project ♯3...