At Kimmel & Associates, we have the privilege of speaking with many of the construction industry's best and brightest. In honor of Women in Construction Week™️ (the National Association of Women in Construction's yearly campaign to explore, celebrate, and promote the role of women in construction), we asked some industry leaders for their perspective on their construction careers, as well as for any advice they might give to women who are considering joining the industry.
Here's what we learned:
Passion is What Guides Most Women to Careers in Construction
Our survey results revealed that half of all respondents name passion and personal interest as the primary motivator for joining the construction industry. One industry expert explained, "I've always been fascinated by the way things are made and the linear progression of a project from start to finish. . . Being the gear that shifts things from paper to real life is incredibly rewarding work." For her, this was especially compelling in one specific industry sector: "I think this is also why I've always been drawn to heavy civil and earthwork; it is all big, tangible work that impacts all of our lives every day."
As educators continue the push to get more women into STEM programs across the country, construction represents an exciting and compelling industry in which women can make great strides and explore their technical and engineering passions every day.
Women in Construction are Drawn to Competitive Salaries and Benefits
According to the Bureau of Labor Statistics (as reported by NAWIC), women earn about 81 cents for every dollar men earn across all professions nationwide. But in the construction industry, that wage gap is significantly smaller - almost nonexistent. Women in construction earn about 99.1% of what men earn. Given that construction industry salaries are also higher than the national average, this puts women in construction in a great place financially compared to their peers in other industries.
Careers in construction also provide job stability and competitive benefits packages, which are yet more reasons for women to think about joining the construction industry. While these considerations are not the most important factor in considering a career in construction for most women, they are significant: about a third of our survey respondents listed competitive salary and benefits as a top motivator.
Family Ties to the Industry are Powerful Motivators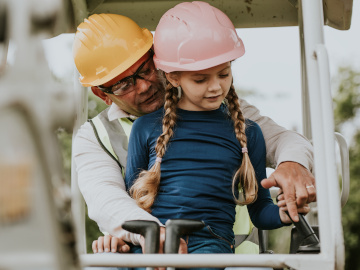 The third most common answer to what led women to a career in construction was the influence of family members and peers. One woman reported, "My father was in the industry, so it was familiar to me. In my first year of university, I discovered the Construction Science program and it felt familiar and comfortable to me."
Providing early exposure to the construction industry as a rewarding career option increases the likelihood that women will consider that career path as they enter the workforce. This exposure most often comes from parents or other relatives, but teachers, community leaders, and even peers can educate women early on about the opportunities that the construction industry provides.
Construction is a Team Sport
When it comes to advice for up-and-coming women in construction, our sources focused on one major theme: "It's the ultimate team sport, and without every single member, we wouldn't make it." The relationships built in the construction industry are among the greatest gifts of a career in this field, and it's important for women to cultivate and capitalize on those relationships. "Take the time to really listen to the experienced folks and earn the trust of the field staff - and when they are willing to teach you, take it all in."
Another industry leader echoed those sentiments: "My advice to a woman starting out in this industry would be to work hard on yourself and improve your skills so that you can be at your best for your team." There is much for women to learn in the industry (including "strength, endurance, comradery, compassion, and grit," according to one woman we spoke with), but it's also important to laugh a lot and enjoy your work and your teammates. In other words, "Don't take yourself too seriously, but know your worth," one construction professional advised.
The construction industry is a place where women can thrive, build challenging and rewarding careers, and cultivate meaningful relationships. By following their passions, learning from great influences, and staying informed about the many benefits of working in this industry, women in construction can find their way to a lifelong career.